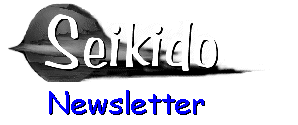 Next Club Meeting
Next club meeting is on Friday Nov 22,2002. All are welcome. Please send items for agenda to
Fatima Almeida before Nov 15.

FCTKD/Seikido Awards Banquet
Komoka Community Centre
Tickets: Adults --$18.00
Children 5-12 yrs --$10.00
Children under 5-- $1.00
Ticket Sales deadline Nov 22
Doors open at 5pm, Dinner at 6pm


Seikido Development Fund
Seikido Development Fund application forms will be ready for the beginning of summer with submission deadline for Mar 30, 2003. For those not familiar with SDF , it is a fund to help promote Seikido and related activities. If you have an idea, please apply using the SDF form and submit to John Lemieux or your club represenative before Mar 30.
Download form now

Communication Committee
As most are probably aware, World Seikido has a web site at http://www.worldseikido.com. If you want to volunteer to help maintain the site or have comments, suggestions or material for web site content, please contact John Lemieux (reply to this email). If you know of anyone would would like their email address added to our web site or want to opt on our mailing list, please contact John Lemieux.
We are also looking for club representatives to act as contacts for any communications. They should be an active member and have access to an email address. We currently have complied the following list. If there are additions or corrections, please forward them to John Lemieux.
Main Club - Vic campus : John Lemieux : lemieuxj@lhsc.on.ca
Saunders Club : Barry Benstead : barrybenstead@home.com
Strathroy Club : Carol Toth : carol.toth@lhsc.on.ca
LakeSide Club : Russell Taylor : lseikido@xcelco.on.ca
Western Club : Carolina Ortega : cortega2@julian.uwo.ca
Warwick TKD club : ?


Western Club Reopens Sept 24
The Western Seikido Club classes start again for the fall/spring semester at the UWO UCC Aerobics studio on Tue/Thur 9:15-10:45 pm and Sun 10am-12. All students and those with proper UCC cards are welcome to take classes.
Contact Western Club President

If you have any items for the newsletter, suggestions,photos,topics for the web site or would let to be on our email list for our SEIKIDO Newsletter, please contact John Lemieux.

Back to WS Home Page